XL American Bully Puppies | Camp Bullies | Charleston SC
XL American Bully Puppies. Camp Bully Kennels located in Charleston, SC. We only produce the best XL American Bully puppies.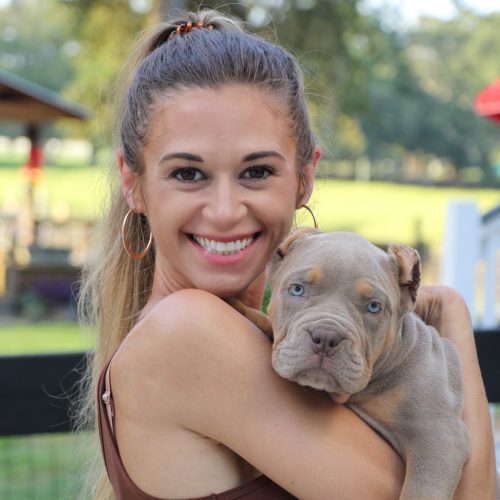 XL American Bully Puppies For sale
At Camp Bullies, we pride ourselves on being one of the top breeders of the XL American Bully. Our commitment to excellence shows in the high-quality xl American bullies we produce. All puppies are properly socialized and also make great companions for children. We are confident in our ability to provide you with a puppy that will bring endless joy and love to your home. Thank you for entrusting us with this responsibility, as we continue to set the standard for exceptional breeding. Thank you for choosing Camp Bullies as your trusted breeder.
       PLEASE CALL (843)864-7900 if you are interested in an XL American Bully puppy

 All puppies come with:
Up to date vaccinations and up to date dewormings
 ABKC and/or UKC registration paperwork
Starter food.
Take-home puppy bag with all of your new puppy essentials.
A breeder that is always there to answer any questions, help with anything, and loves to keep up and watch your pup grown. We are all family at Camp Bully Kennels.
We will post photos of pups once they are born on this page.
*WE ARE FIRST COME, FIRST SERVE AND WILL NOT HOLD A PUPPY WITHOUT A DEPOSIT AND SIGNED PUPPY CONTRACT. dEPOSITS CAN BE MADE VIA PAYPAL, CASHAPP, OR VENMO*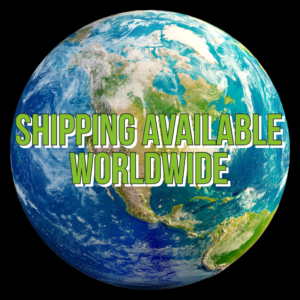 We can Ship Puppies all over the world!! Puppies can be flown to your nearest airport with a flight nanny. Prices for shipping in the US range from $600 – $1000. International shipping starts at $4,000. Please contact with any questions. 

Introducing Legacy X Jewel, the exclusive breeding offered by Camp Bullies. Jewel is a top-notch producer and consistently exceeds expectations with each litter. Her compact frame and stunning dark blue coat, paired with her sweet and easy-going personality, make her a true gem. Meanwhile, Legacy is a massive force to be reckoned with, boasting a 28″ dome, thick body, and a one-of-a-kind silvery lilac coat. He is the best lilac tri troll son in the US and is a top dog when it comes to loyalty and love for his family. These two champions have created a litter of kings – 9 massive XL American Bully puppies were born on 5/14/23, with every single one impressing the vet with their size. The icing on the cake? This once-in-a-lifetime pedigree can only be found here at Camp Bullies. Don't miss out on the chance to bring home a truly exceptional pup.
• • • • • • • • • • • • • • • • • • • •
Litter of kings born 5/14/23 (8 males / 1 Female)
Ready for new homes 7/22/2023
Please call:
(843)864-7900
For Your new XL Bully Puppy.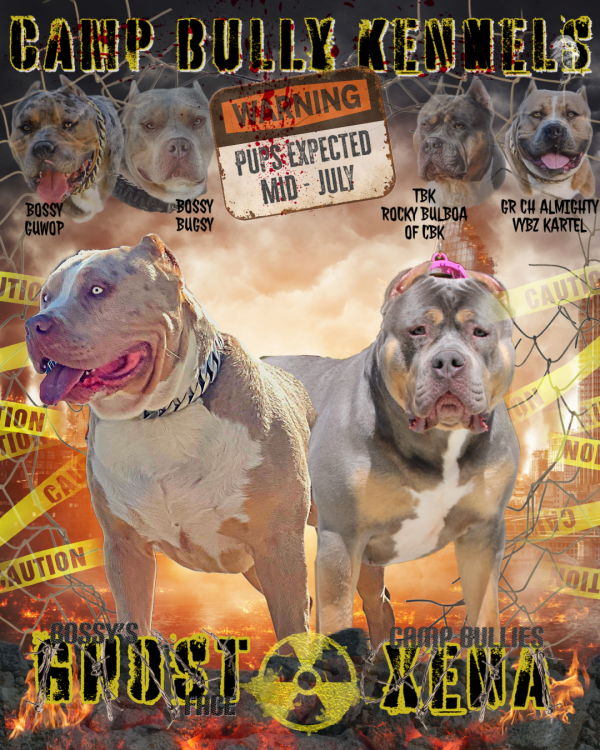 PUPPIES Born 7/19/23
Ready for new homes end of september 23

How Do I get my new XL American Bully Puppy?
Do You Want To Reserve Your XL American Bully Puppy?
To Reserve Your Pick…
We Require a $1,000 Deposit And Signed Puppy Contract. Deposits can be made via CashApp or Venmo. Remaining Balance Due by pickup. No XL American Bully Puppy can leave until paid off. Picks Are Made at 6 Weeks Old And Pups are Ready for new homes at 8 weeks Old. Ear Cropping is avaible for an additional $300. Cropping is done around 8 weeks of Age. (This may push back take-home age to 9 weeks). 
Ready To Reserve… Or Questions??
Please Call Or Text (843)864-7900




If you have questions on one of these breedings, Please call us at (843)864-7900 or contact us with the form below. Please include the breeding Pair in the subject line.