American XL Bully Females | Camp Bully Kennels | Charleston

Name: Bourbon
---
Weight: 125lbs
---
Height: 22in
---
Head: 23″
---
About Bourbon: This is Bourbon and this girl is on fire! She is one of Bossy Rome's daughters and is built like a tank. Weighing at 120lbs, this girl is large and in charge. She is the star of the yard at Camp Bullies and is going to make some major moves. Her favorites are her tennis ball and belly rubs. She is very family oriented and loves to just hang out. Out of all the patients at our veterinarian office, she is one of their favorite visitors!
Name: Jewel
---
Weight: 95lbs
---
Height: 19in
---
Head: 23″
---
About Jewel: The Crowned Jewel of Camp Bullies. This girl is the definition of bully with her thick body, nice wide chest, and a big ole booty. She is a black Tri with very correct features and amazing feet. This girl is a producer! She has outproduced herself every litter and is a major foundation to camp bullies. She is very sweet and playful girl that enjoys running and rolling around the yard.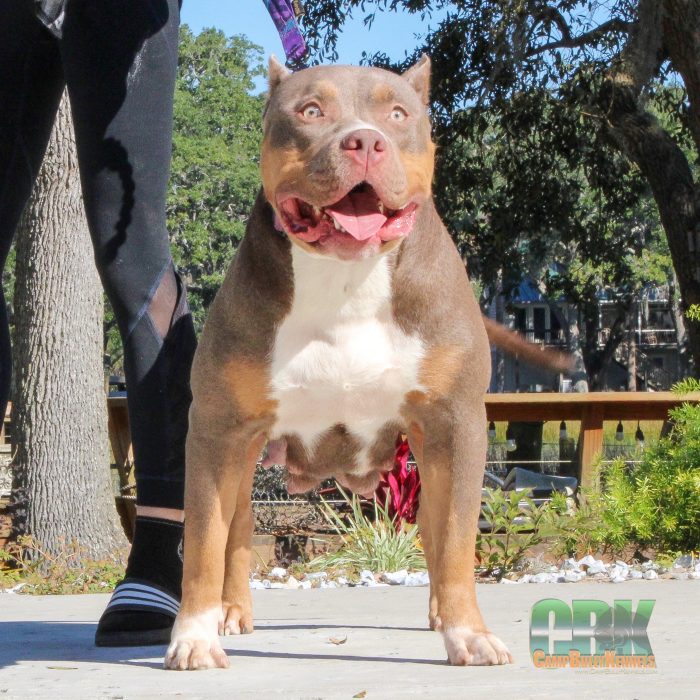 Name: Dreamy
---
Weight: 106
---
Height: 22″
---
Head: 24″
---
About Dream: Dreamy is a very happy, energetic, loving, and very sweet.  This girl plays hard and sleeps even harder (hence the name Dreamy). She is Coleone's LowKey daughter and her pedigree is slam packed of the best including: show stoppin ace, 2x Primeyard's Butterscotch, 2x Bossy Adios, Bossy Rambo, Coleone's Payday, EBI's Joker, Bossy Staxx, and more!!! 
---

Name: Xena
---
Weight: 94lbs
---
Height: 22in
---
Head: 23″
---
About  Xena: Xena was proudly produced from our rocky X Gigi Litter. She got her dads legendary dome and her mom's perfect topline. She has the most sweet temperament and enjoys zoomies and lots of love. This girl is ready and we have an out of this world breeding planned for her soon.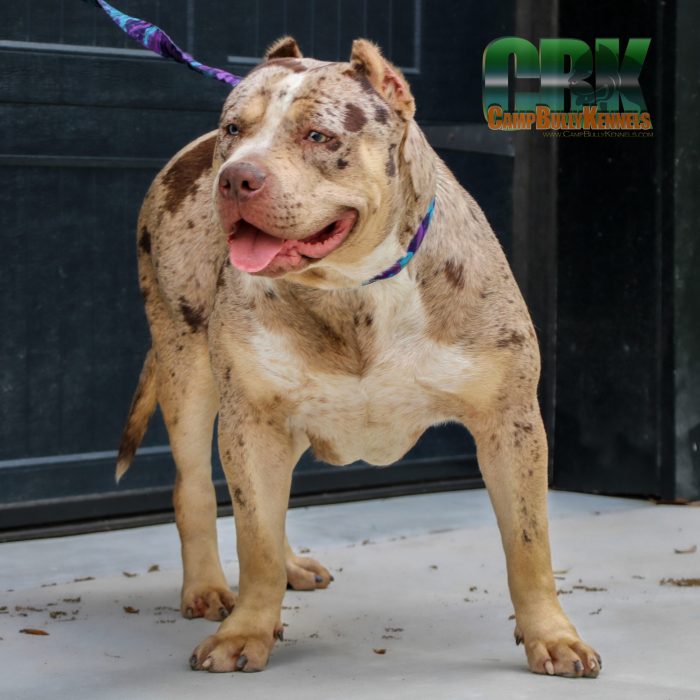 Name: Skittles
---
Weight: STILL GROWING
---
Height: STILL GROWING
---
Head: STILL GROWING
---
About Skittles: Skittles was produced from our Whopper X Bourbon breeding. She has her moms beautiful chocolate Tri Merle color and her dad's famous chest spread. She Is looking amazing At Only 10 months old. Her Pedigree is the best of the best with all proven producers. big plans are being made and her future is looking very bright.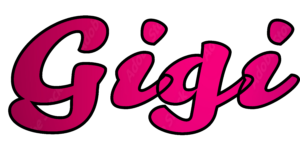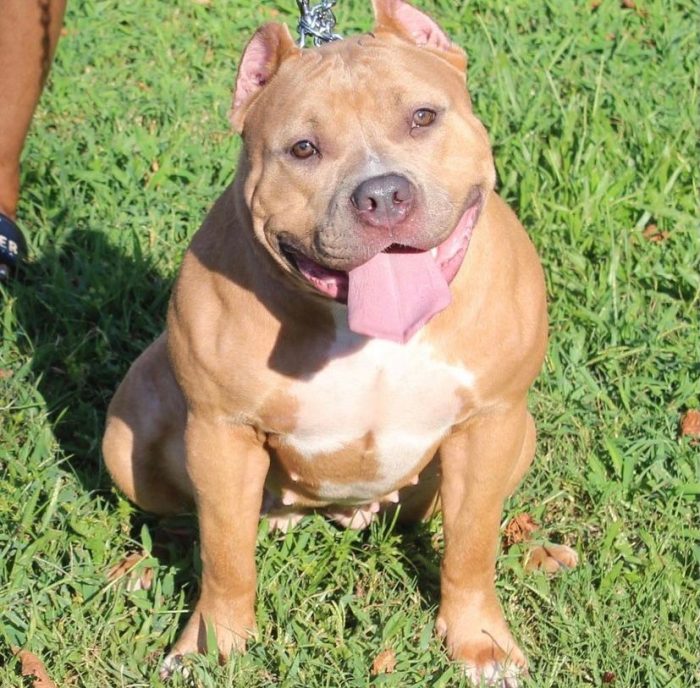 Name: Gamara GiGi
---
Weight: 90lbs
---
Height: 21in
---
Head: 22″
---
About Gigi: Our sweet girl Gigi, with her perfect structure and sweet eyes that make you melt. She has a perfect bully head and a straight back at any angle. She is one of the daughters of GR CH Almighty Bullyz Vybz Kartel and is going to continue to pass that champion blood to her offsprings produced at Camp Bullies. She has an amazing sweet temperament and loves to play ball all day.